// September 19th, 2011 // No Comments » // GE11
In seeking to create a society with more equal opportunities one of the problems that we can't get away from is the influence of family history. If your ancestors were quick witted, physically strong specimens and completely amoral then the chances are that you've ended up benefiting by virtue of the leg up provided by the fact that each subsequent generation had starting out in life with more wealth and privilege than those around them even if you're no longer actually the ruler of half of Mittel Europe.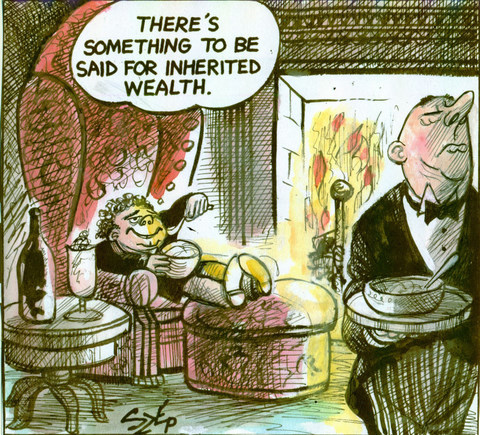 And why is this? Because we have decided to trump nature by embedding in our legal system the notion of inherited wealth and influence. At least back when the amoral ancestors, of those who are now the inherited elite of most of the human society, were getting what they could while the getting was good there was a good chance that someone else getting it from them later. If they slipped up or their offspring wasn't up to the same standard as their parents then someone else could come along and take it from them. This they would do by being better at what it was that society valued at that time: killing people for the most part, making deals and alliances and a few other traits. Yet somewhere along the way as we created legal protections for the great mass of the people, Magna Carta and so on, those with power and influence also snuck in the slow thaw that protects both their position, and more damaging as history has gone on, that of their offspring.
We can't go back and make human society in the time of the Pharaohs, the Emperors of Rome or the kings of Europe more equal yet one thing we can do is to end the practice of legal inheritance of vast unearned wealth (from this wealth is derived the influence) as we know it. To start to undo the constraints that mean that people do not arrive at the start of the race on an equal footing. Sure it's a long way from the sort of  quick fix that most modern politics is about. Indeed, it's the work of generations but it has much more chance of succeeding in the longer term and with considerably less objections than penalising those who currently seek to make the most of their talents as the income tax does when it is jerry-rigged to be a means of wealth redistribution. In fact excessively high incomes taxes do more preserve the positions of those who inherit great wealth than it does to undermine it.
Let's face it we can't realistically do much about what parents decide to spend on their kids while they are alive, no matter what bans or constraints you introduce parents will find a way around it. If they have wealth and influence then they will use it while they are alive. It's part of human indeed animal nature to do what you can to further the prospects of your offspring over that of others. Yet for all that in almost all other* more primitively organised animal societies no offspring automatically inherits their parents positions of dominance and power. We actually allow people who are dead to shape the organisation of society and the rewards that accrue to people so that people are no rewarded proportionately for their efforts alone but rather than effort is for the most part a simple and limited sort of multiplier for your efforts except for a rare few who manage through little more than luck to slip through from one reward structure to another. For sure if it wasn't them it would have been someone else similar to them, but it wouldn't have been 50 or 50,000 of them.
The idea in rough outline would be that governments the world over would announce that from here on out inheritance taxes will increase by 1% every 5 years on amounts over €1 million and by 3% on amounts over €5 million (these limits would only increase by a rate of 1% less than inflation for a period of 50 years). That the stated aim was that within two to three generations that the Gavin O'Reilly's or James Murdoch's of this world should no longer be in charge of vast wealth and power by virtue of what their fathers did. That they could only occupy such positions on the basis of they being actually better than any of the other possible candidates.
It is bad for business and it is bad for society. Let's face it inheritance is something that those on the free market right, and equal opportunity for all left should be able to unite around. People should be free to work hard and be rewarded for doing so but the starting position that you get in how much you are rewarded by shouldn't more influence by what your grand parents did than what you have done yourselves.
By all means people should be able to ensure that their children should be comfortable perhaps even to the degree of never needing to work for their entire lives but not that their children will get incomes and wealth positions out of all proportion to their own merit. And no one could object to the right of parents to be able to provide for their off-spring who can't provide for themselves.
For everyone else that should be the limit of it. All the increased taxes should go into targeted programs for less well off children, starting with food programs in pre and primary schools and moving up with the ages as the decades go by until every child has the best possible preparation to make the most of their abilities and to make the best possible contribution to their community and wider society when they reach adulthood. And what they earn they are free to keep and spend as they please, but once they are dead and gone that mos of that wealth goes back into the pot to fund the opportunities of others.
Naturally there would be problems with some forms of wealth like land tied up in farms but we can find ways to resolve that. That people could retain the right to farm land and to profit from that activity as their fore-bearers had but not to profit from the disposal of the land itself unless it was to sell more valuable land to invest in other land.
Do I think that anyone will rush to embrace this idea? Nope. People have had this idea before and will again, but that's no reason not to consider it. Nor do I think it is one that will find much favour in Ireland, rather most people with find faults (and there are faults, easily found) with the rough plan of execution. Yet if anyone reading this lets the germ of the notion settle for a moment or two, no matter how barren the ground might seem I have a sneaky feeling that they might find themselves coming back to it wondering every once in a while – how could we finesse this, how could this be made to work,  so that a truly more meritocratic society could be born.
* I was going to say "all other more primitively organised animal societies" but I'm quite sure that someone will tell me that there is some rare form of ape out who let's the eldest offspring become head of the tribe.